Thank you for your interest in Rugged Routes and Lowrance GPS for off-road navigation. I hope this guide offers a comprehensive look at the Lowrance GPS features, mapping capabilities, and expandable functions.
When considering the use of a Lowrance GPS for off-road navigation, there are three main questions that frequently arise: Why should I choose Lowrance? Which specific model should I get? And How should I mount it in my vehicle? We'll answer all of these critical questions below.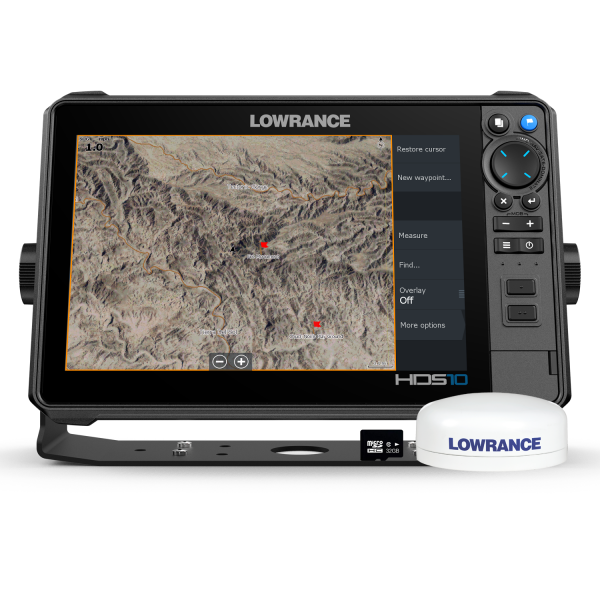 Why choose Lowrance? Lowrance GPS's have been race proven for well over a decade, they are compatible with Rugged Routes detailed off-line & non-subscription off road gps maps, and have expandable functionality options. Lets jump into the details.Proven Hardware: Lowrance hardware has undergone rigorous testing and has demonstrated proven reliability in off-road racing for many years, which directly translates to its reliability in other off-road activities. These GPS's have withstood extreme conditions such as rough terrain, high vibrations, and temperature variations. They have also been designed to resist water intrusion, even when submerged. This feature ensures that the hardware remains operational and dependable even in wet off-road activities, including the twist-lock style power cord that is wired to 12v.
Although Lowrance has historically been primarily focused on marine electronics due to market size, Lowrance MFD's have been a top choice among off-road racers from Baja to King of the Hammers. Beyond racing, these units are equipped with waypoint marking and route planning functionalities, enabling users to create and follow customized paths and are commonly used by many recreational off-road enthusiasts(Jeeps, UTV's and more), government agencies (Game & Fish, CalFire and more), as well as various businesses where reliable off-grid navigation is needed. You can import and export common GPX files as well as use the more robust Lowrance format, USR. There are many features that are standard across the entire product line such as the recording trails (breadcrumbs) and marking waypoints, map support, split screen, high max operating temperature, and robust power and data connectors. The split screen features allows an extremely flexible and customizable experience allowing the screen to be slit into 2 GPS's, or viewing a video feed on one side and a GPS chart on the other.. the options go on. At first glance you may think that the max operating temperature is irrelevant, however many cell phone and tablet based systems have been known for shutting down when they get too hot. Battling such a basic issue is typically unacceptable when you're on an off-road adventure or in the middle of a competition. Lowrance GPS's are rated to operate with a temperature of up to 131°F, much higher than most other consumer hardware.
All the Lowrance GPS's that we use for off-road, all use the same twist-lock style power cord which is another common failure point on phone and tablet based systems. The shock and vibration loosens the phone or tablet power cord and the device shuts down once the battery unexpectedly dies… another typically unacceptable issue, particularly during competition. But you don't need to worry about that here.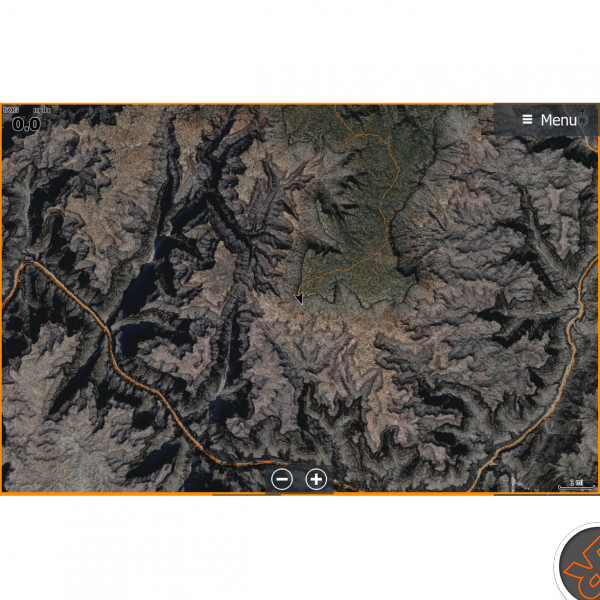 Off-line Mapping: Detailed off-line mapping capabilities set you free from needing an internet connection and is a key factor in being able to explore areas beyond cell service. With Rugged Routes mapping, high detail off road gps maps are easily used on Lowrance GPS's by simply inserting an SD card with off road maps of the appropriate coverage area. Various level of mapping detail are available from basic topographic maps, to detailed satellite imagery, points of interest with photos and color coded trail difficulties. Topographic maps are the off road gps maps have have rings which surround hills and mountains at various elevations. This gives a good representation of how high various land features are. These off road maps also have roads and trails overlaid on top of the elevation lines. The Satellite imagery off road maps are becoming the go-to form of map these days as they are easier to read with an actual high resolution picture of the ground. They typically do not have have topo lines combined with the imagery unless made for special projects.
All Rugged Routes off road gps maps are subscription-free and are delivered on an SD card.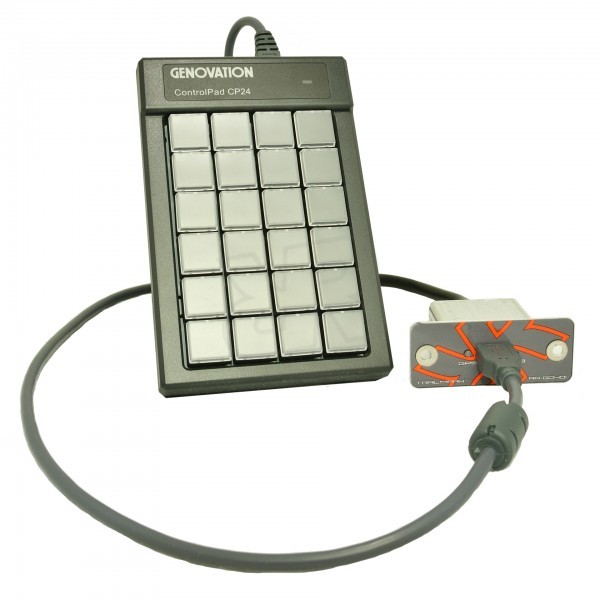 Expansions / Integrations: The expansion options of Lowrance allow users to integrate additional systems to meet their specific needs and include multiple networking interfaces and inputs. These includes bluetooth, wireless ethernet, wired ethernet, NMEA2000, and RCA video input.
Ethernet: One interface that is available is the wired Ethernet which allows multiple units on the same network to share mapping, sync trails, and sync waypoints. This can be extremely useful where there are multiple units in the same vehicle, such as for a driver and co-driver which would offer display configuration flexibility to each persons preferences while operating as a single system. In addition to sharing data, other accessories may use wired networking such as the Sirius Radio / Weather module which allows live weather overlays to be displayed on the GPS navigation screen and control the Sirius radio station. The audio output of the Sirius module can be output to various audio devices. IP Network camera live stream viewing is also available on some models.
NMEA2000: The NMEA2000 is a data connection that allows the connections of many additional devices to pass data into the Lowrance GPS. This is most commonly used for the Point-1 Baja external antenna which provides increased positional accuracy as well as pitch and roll angle readings. NMEA2000 can also be used for additional data such as live engine data, UTV belt temperature sensor reading, and more. The reading from these types sensors can then be viewed as an overlay on the GPS Chart screen or viewed in the instrument view.
NMEA2000 also allows interfacing devices for marking waypoints (TrailMark), powering 12v accessories (Loop-S digital switching module). and even offers a connection to various radios for remote location tracking.
NMEA0183: The NMEA0183 the predecessor to NMEA2000 and is still supports on some Lowrance models. It's often used to sharing location data with various other devices such as radios for location tracking. If you are a ham radio operator, you may be familiar with this interface being used for APRS (Automotaic Position Reporting System) modems.
Wireless Ethernet: You can remotely view and control the Lowrance GPS using the Lowrance app while connected to the Wireless connection.
Once connected to the wireless connection, there is also a FTP (File Transfer Protocol) connection available to upload and download files. There is also a webpage available at http://192.168.76.1 to remotely upload and download USR files. These wireless options could potentially be used to expedite many operations as you prepare for your next race or adventure.
Bluetooth: Lowrance offers some additional remote operation accessories such as the LR-1 Remote which allows waypoint marking as well as GPS chart zoom settings.
RCA Video Input: On some Lowrance models, a RCA video adapter can be installed in-line with the power cable. This allows the viewing of a video source such as from a backup camera or forward facing camera as a spotting aid rock crawling.
HDMI Video Input: Some Lowrance models offer an HDMI input video connection for viewing a video source.
USB Port: Some Lowrance models have a USB port for file transfers as well as additional USB device compatibility.
As you can see, the possibilities are seemingly endless with the vast amount of customizations and flexibility offered by Lowrance and is unparalleled in the off-road industry.
Which Lowrance should I get? Luckily, you can narrow down the selection of Lowrance GPS units pretty easily. The first step is to decide on which series of GPS your requirements fall into. The Elite FS Series or HDS Series. Regardless of which series you choose, you will have access to the navigation and mapping functions. The most immediate differences that you will notice between to 2 series is that the HDS has more buttons. These buttons are setup on the HDS in a way that allows you to operate the GPS without needing to rely on the touchscreen at all. This may be useful to give your co-driver an additional level of control while in motion. The larger HDS units also have customizable shortcut buttons as well. Another advantage of the HDS is that is has a Solarmax HD display which allows for easier viewing outdoors in bright light and has wider viewing angles. The HDS series also runs faster higher end CPU under the hood. For the rest of the differences you can resort to the comparison chart below:
Screen Size

7"

9"

9"

10"

12"

16"

Operating Temperature

+ 5° F to + 131° F

Water Resistant

IPX7 with Door Closed

Mounting Options

Flush Mount & Side Bolts

Shock & Vibration

100,000 cycles of 20 G

Physical Buttons

Essentials

Full Feature Keypad

SD Card Storage

1 Micro SD Slot tested to 256GB

2 Micro SD Slots tested to 256GB

Wired Ethernet

1

2

RCA Video Input

N/A

W/ Optional Adapter Cable

LED Touch Screen >1200 nits

800×480

Solar Max 1280 x 720

SM 1280 x 800

SM 1920 x 1080

Record Trails

•

•

•

•

•

•

Mark Waypoints

•

•

•

•

•

•

USR Files

•

•

•

•

•

•

GPX Files

•

•

•

•

•

•

Rugged Routes Off Road Maps Compatible

•

•

•

•

•

•

Wireless Ethernet

•

•

•

•

•

•

NMEA2000

•

•

•

•

•

•

NMEA0183

•

•

•

•

Bluetooth

•

•

•

•

•

•

HDMI Video Input

•

•

USB Port

•

•

Programmable Shortcut Buttons

0

0

0

2

4

4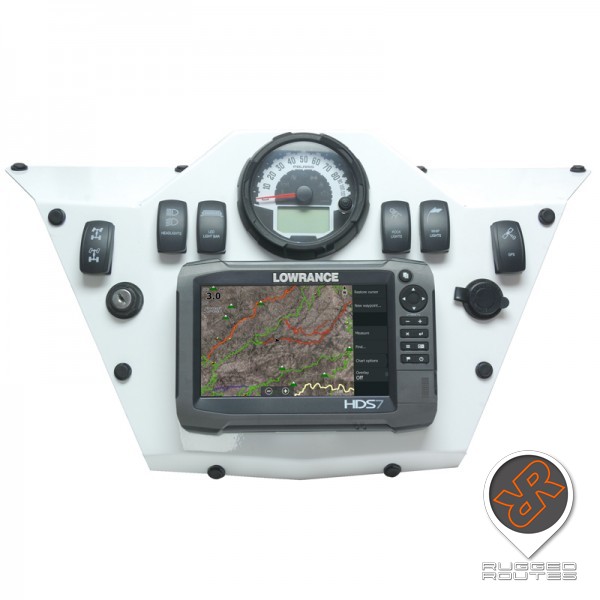 How should I Mount it? There are 2 ways to attach the Lowrance to a mount of some sort. Flush mount in a panel, or utilizing the bolts in each side of the Lowrance GPS.
Using the side bolts on the side are definitely most commonly used, especially being that there is a mounting bracket included with each unit. However, there are many other brackets on the market such as the ones by Axia Alloys. These brackets allow easy mounting to tubing such as roll bars & accessory mounting solutions commonly found in race trucks, UTV's, Jeeps and much more. There are other brackets such as the ones from MacDermid Design which are aftermarket dash pieces with an integrated GPS mount in it for a clean result. You can also use various RAMmounts which is a popular adjustable and flexible system.
Flush mounting is a fantastic simple and robust way to mount your Lowrance GPS if you have a vehicle with a custom dash with a panel that you can cut a hole in. There is a removable bezel around the edge of the Lowrance GPS which exposes mounting holes which can be used to screw the GPS directly to a panel. Once mounted, the bezel can be reinstalled which hides the mounting screws. There are also multiple companies that make vehicle specific brackets that utilize this mounting method.
I hope this introduction has given you a complete picture of not only which GPS best fits your needs, but what the possibilities are beyond a single standalone GPS. For further information regarding learning to use the various features, be sure to check out the Rugged Routes YouTube Channel which has various tutorials. If you have further questions, please respond to this e-mail or Contact Us via the website. To keep up to date with latest happenings and behind the scenes development, please consider following Rugged Routes on Instagram.
Orders can be be placed online at RuggedRocks.com
Thank you,
-Steven Lutz